A study in the Internal Medicine found that people who eat five servings of chocolate a week were up to 7 pounds slimmer than abstainers.
Think being vegan is just a symbolic gesture, and that someone else will be eating the meat you are not? Think again. The last ten years has seen a steady decline in the consumption of meat and eggs in the U.S., according to a study using data compiled by the United States Department of Agriculture (USDA), the National Center for Health Statistics, the United Nations and the U.S. Census Bureau.
Beef consumption has been in a downward spiral for 20 years – the national beef cattle herd is now smaller than it has been in any year since 1962. Chicken and pork production has also slumped in the last five to ten years, and the USDA predicts another dip in meat and poultry consumption for 2012.
U.S. meat consumption reached its highest point in 2004, when we ate an average 184 pounds of meat per person. That fell to 171 pounds in 2011. With the USDA's estimated further reduction to 166 pounds in 2012, that will be a 10% dip over an eight-year period. This is a significant drop. And there's more good news for animals – people don't seem to be replacing meat with eggs. Egg consumption decreased by about a dozen eggs per person, per year, since 2006.
So how does this translate into lives saved? In just one year, between 2010 and 2011, there were 1 million fewer cows slaughtered, 5 million fewer pigs slaughtered, and 240 million fewer chickens slaughtered. Between 2005 and 2011, there were 725 million fewer animals killed for their flesh.
The number of animals slaughtered is in decline and that is thanks to the vegans, vegetarians and flexiterians reducing and eliminating animal products from their diets. These lifestyle shifts are preventing lives of misery on factory farms and in slaughterhouses across the country.
The agricultural industry wants us to believe the decline is due to economic factors, which could play a part, but the dramatic reduction coincides with a mainstreaming of veganism, including undercover investigations in major media exposing the horrors of factory farms, key farm animal legislative initiatives gaining widespread attention, and celebrities, athletes and politicians adopting vegan diets.
For years, Robert Dimmitt was a product designer for Ford. Three years ago, the 57-year-old Michigan man was laid off. He's still looking for work.
This Thanksgiving, he volunteered at a Panera Cares cafe in exchange for a meal. He's been donating his time there since March and he says he's met many others just like him.
"Some of them even come to the management in tears and they are so hungry and the management helps them," he said.
There are three Panera Cares Community cafes — one in Missouri, one in Michigan and another in Portland, Ore. They are the brainchild of Ron Shaich, the co-founder and executive chairman of Panera Bread and the president of the Panera Bread Foundation.
Each site serves 3,500 people every week. On a case-by-case basis, the cafe suggests to each patron how much they can afford.
"It's just amazing to us. Many people questioned whether this would work," Shaich told ABC News today. "We said that this was the right thing to do. It's a pay-it-forward kind of thing."
Jenny Bradley, who lives near Dearborn, Mich., said she found out about Panera Cares from a niece. Sometimes she can pay and other times she can't.
"I come three to four times a week," she said. "When I have a lot of money, I put extra money in, and when I can't I'll ask to see if it's O.K. if I can pay later."
Shaich said it was a "test of humanity."
"Twenty percent of customers pay more than the suggested donation," he said. "Sixty percent leave the suggested donation and 20 percent leave less, typically significantly less."
He said it was Panera Bread's way of giving back directly. "We have the skills to operate these cafes," Shaich said today. "We operate 1,600 cafes around the United States. We have the capabilities to do this."
At the Portland cafe, Jennifer Karsonengum paid full price for her meal and a little extra for the next person.
"Everybody can walk in the door and be served a meal and eat," she said. "That's becoming a luxury in this country."
According to Feeding America, nearly 49 million men, women and children nationwide are considered "food insecure" — as many as 17 million of them are children.
Panera Bread's mission is similar to that of One World Everybody Eats Foundation. Denise Cerreta says she opened the first pay-as-you-can restaurant eight years ago in Salt Lake City. Cerreta says her restaurant has served more than 215,000 meals.
And there are others: Jon Bon Jovi's Soul Kitchen in Red Bank, N.J.; Cafe 180 in Englewood, Calif., which served 150 people in two hours on Thanksgiving; and Table Grace in Omaha, Neb., which serves 40 people every day.
(Source: abcnews.go.com)
What do you and your family eat each week? You may be shocked to see the significant variation even between relatively 'similar' nations when it comes to diet. While many families within the United States and Mexico include fast food and soda into the core of their nutritional program, families from nations like Bhutan survive off of traditional base food items like vegetables and grains. It is easy to see why disease rates are skyrocketing in many developed countries, where nutrition is not held to a very high regard.
Amazingly, the United States also spends more on healthcare than any nation in the world. Despite spending $7,960 per capita, the United States has been ranked dead last when it comes to the quality of care. The fact of the matter is that when food intake is ignored — along with the subsequent toxic ingredients that go along with the processed food addiction — disease will arise. In the telling pictures below, taken from the book 'Hungry Planet: What the World Eats', you can see what the average family from each nation eats over the period of one week.
North Carolina, United States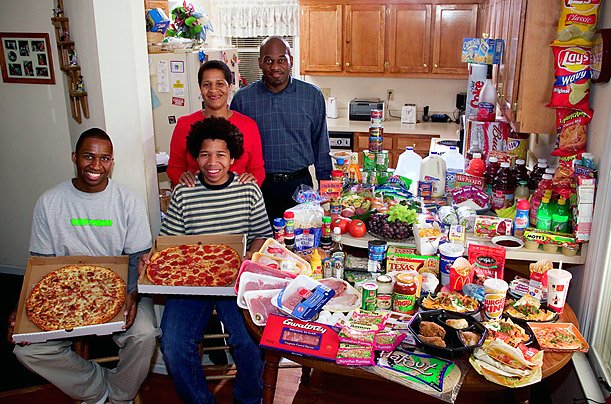 This family from North Carolina eats a diet almost entirely of processed and pre-prepared foods with heavy amounts of junk and fast food. Consuming mostly sugar-laden 'fruit' drinks and mega-sized sodas from Burger King and McDonald's, this average American diet will ultimately lead to chronic disease and rampant sickness. Some favorite foods include pizza and fast food.
Mexico
Families in mexico also tend to consume sugary sodas and processed foods, though their fruit and vegetable intake is higher than the United States families observed. The family lists their favorite food items as pizza, pasta, and chicken.
Canada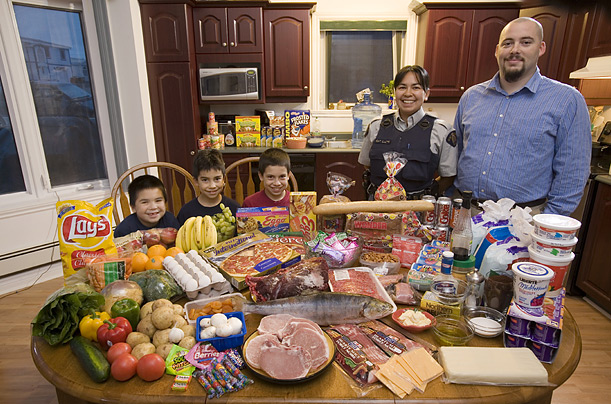 Enjoying some of the same processed items as families from Mexico and the United States, Canadian families do consume processed chips and meats, though you will notice a more prominent display of vegetables and fresh fish on the table. An increased amount of yogurt and cheese is also featured.
Italy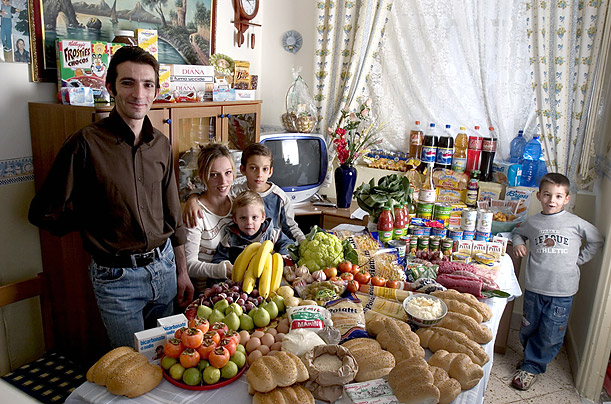 Italian families enjoy their bread, pasta, and assorted fruits. With grains a major part of the diet, along with other carbohydrate-rich foods, Italian families tend to forfeit some meal options high in protein for 'traditional' Italian dishes like pasta with ragu. While many of these items are fresh or even baked at home, Italian families still consume large amounts of sodas like Pepsi. You can see that this family drinks about 6 larger-sized bottles per week.
China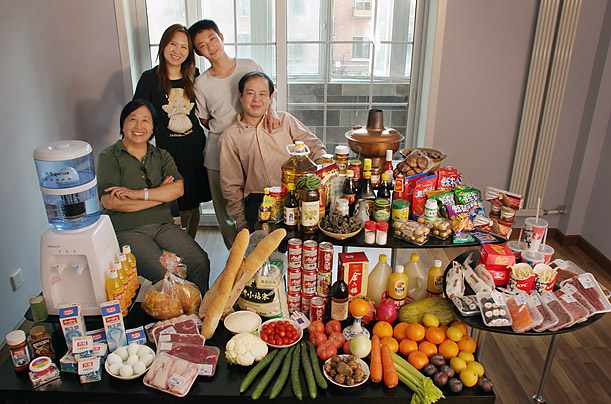 This Chinese family prefers fried shredded pork with sweet and sour sauce, listed as their favorite dishes. Eating processed food items mixed with packaged meats and fish, this Chinese family eats more fruits than vegetables, and their produce selection is one of the smallest besides the United States.
Chad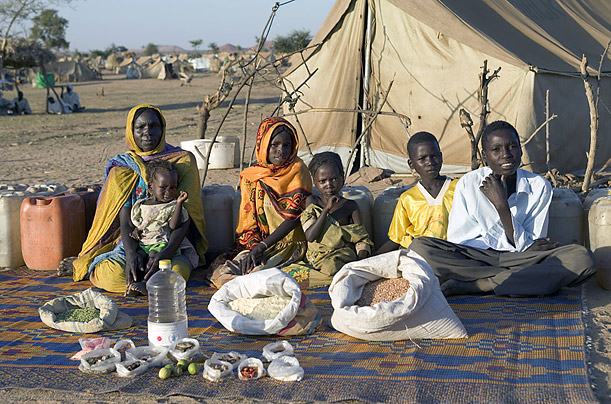 This family resides in the developing nation of Chad and spends only the equivalent of $1.23 per week on food to feed the entire family. Their favorite food is soup with fresh sheep meat.
Japan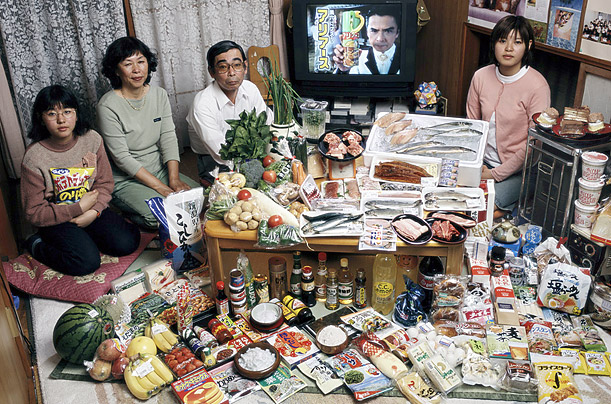 It may surprise you, but this Japanese family consumes a diet high in processed junk and sugary treats. They list their favorite food items as cake, potato chips, and sashimi.
Germany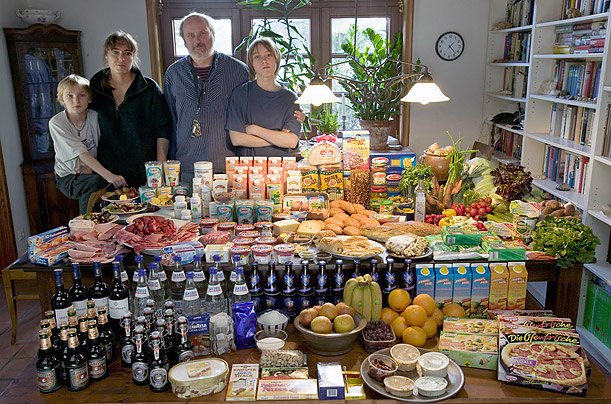 This German family has adopted an American-styled nutritional regiment, stating that their favorite foods are pizza, vanilla pudding, fried potatoes, and fried noodles. You may also notice the largely increased amount of beer and other alcoholic drinks over the other nations.
Great Britain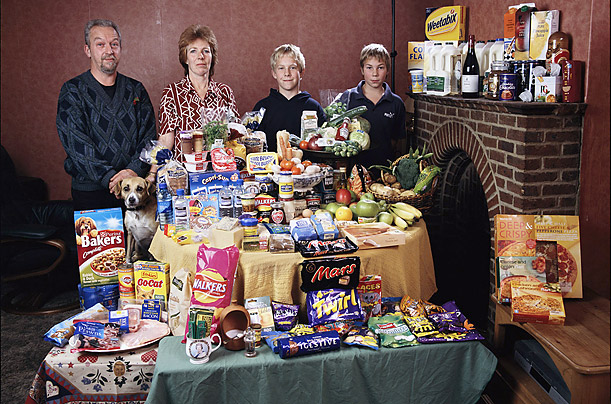 Spending over $250 per week on food, the average family in Great Britain is eating mostly processed meals and candy. This family's preferred foods include chocolate fudge cake, mayonnaise sandwiches, and prawn cocktail.
(Source: infowars.com)
Soybeans are legumes native to eastern Asia. All Asian cuisines that use soybeans ferment the beans before cooking and consuming them. There, it is common knowledge that soy is "poisonous" and that the fermentation process removes the "poison."
The incredibly high demand for soy started with the invention of vegetable oil and trans fat, and led to the advent of industrialized genetically modified production. And as the story goes for most industrialized food, there is a byproduct! With all the oil extracted, the food manufacturers were left with a lot of soy protein that they started adding to processed foods. So, while Asian cultures eat only whole and fermented soybean products, we in the western world tend to split the beans into two different food products; soybean oil and soy protein (often called soy protein isolate, soy protein concentrate, textured vegetable protein or hydrolyzed vegetable protein).
One or both of these food-like substances are pretty much found in all processed and fast foods.
For this precise reason, we in the west surprisingly eat more soy than people in Asia. Dr. Joseph Hibbeln at the National Institutes of Health estimates that soybeans, usually in the form of oil, ­account for an astonishing 10 percent of our total calories in the United States. Now that's a lot! (If you want to know more about soy, Wikipedia has a great entry as well.)
What is the problem with Soy?
Aluminum: The highly industrialized processing of soy requires acid washing in aluminum tanks. The aluminum then leaches into the final soy products that are sold for human consumption. We know that aluminum is toxic to our nervous system and kidneys. So, the rule is simply to avoid all processed soy. That includes isolated soy proteins, soy bean oil and any processed and fast food that contains soy (almost all!).
Environmental Impact: A typical misunderstanding is that choosing soy instead of animal foods is a more sustainable and environmentally friendly protein option. But in fact the industrialization of soy production has led to genetic modification of the crops (unhealthy to both humans, animals and normal plants that grow nearby), deforestation and a need for large amounts of pesticides. All that on top of the impact from processing, packaging and transportation of all the different soy products. You are better off eating a locally farmed egg bought at the farmers market.
Anti-Nutrients: Soy contains some well-known anti-nutrients; phytates, enzyme inhibitors and goitrogens. Although all plants contain some anti-nutrients in order to protect themselves and reproduce, soy is by far the worst. Phytates bind to minerals in our digestive tract and can block absorption. The enzyme inhibitors make the un-fermented soybeans very difficult to digest, and goitorgens can block the production of thyroid hormone.
Thyroid Imbalance: There have been several studies linking even moderate soy consumption to thyroid disorders, which is a very common problem, especially amongst women today. The goitorogen found in soy are to blame - these are compounds known to make it more difficult for the thyroid gland to create its hormones.
Breast Cancer Risk: A few studies do suggest that soy isoflavones could benefit women by reducing their breast cancer risk, but numerous other studies also link soy (especially soybean oil due to its high omega 6 content) to breast cell proliferation, which is a well-known marker of breast cancer risk. Very opposing findings indeed! Until we know more, I would be cautious of consuming soy as a health food.
Male Fertility and Health: I remember reading once how two glasses of soymilk equals the same amount of estrogen (in the form of phytoestrogen) as one birth control pill. It totally stunned me - I know so many people sipping away on their soy lattés thinking it is a healthier choice that's better for their bodies. At the same time, there are several studies that point to soy actually reducing the risk of prostate cancer. Again, the data is not conclusive enough and I would suggest being cautious and ridding yourself of that soy latté habit.
Allergies on the rise: Soy allergy and intolerance is on the rise, probably due to both GMO and over-consumption. For some very sensitive people, the allergy even includes all meat, poultry, fish, dairy and eggs from animals consuming soy feed. GMO soy in animal feed is a huge issue. Animals, just like us humans, are not meant to consume large amounts of (unfermented) soy. In addition, feeding these indigestible foods (grains and soy) to animals leads to an increased need for antibiotics.
It is not all bad. Traditionally prepared, whole soy foods are both delicious and nutritious.
Fermented soy products are the best and they even provide us with beneficial probiotics! The fermentation process reduces the levels of dangerous anti-nutrients mentioned above.
Choose organic and fermented soy – exclusively! Make a point of reading labels and asking questions.
Look for traditionally prepared and unpasteurized soy sauce such as Nama Shoyu.
Drink miso soup for its probiotic benefits (make sure not to boil the miso or use boiling water – it will kill the good bacteria).
Tempeh and natto are also fermented soy products that have been used for centuries in Asian cultures.
Tofu and edamame is OK now and then if you tolerate it well. Traditionally tofu and soy milk products were both fermented, but nowadays the milk and tofu you find in your local supermarket or health food store are unfortunately not fermented. 
Try to mix up your protein sources and dairy alternatives. There are so many great nut and seed milks out there these days.
Commit to making a large portion of your food from scratch. When you cook you also control the quality of the ingredients. This allows you the option to use allorganic ingredients.
(Source: mindbodygreen.com)
By: Lakshmi Sandhana
The team at Cornell University's Computational Synthesis Lab (CCSL) are building a 3D food printer, as part of the bigger Fab@home project, which they hope one day will be as commonplace as the microwave oven or blender.
Just pop the raw food "inks" in the top, load the recipe - or 'FabApp' - and the machine would do the rest.
"FabApps would allow you to tweak your foods taste, texture and other properties," says Dr Jeffrey Ian Lipton, who leads the project.
"Maybe you really love biscuits, but want them extra flaky. You would change the slider and the recipe and the instructions would adjust accordingly."
The goal is to blow the lid off cooking as we know it and change the future of food production.
People lacking even basic culinary skills could download the recipe files of master chefs or print out nutrition-packed dishes recommended by their doctors.
Chefs could also create new foodstuffs and customizable menus for fussy customers.
And it would have the added benefit of cutting out some of the waste of current food production methods, says Homaro Cantu, chef and owner of the Moto Restaurant in Chicago, Illinois, who has printed sushi using an ink jet printer.
"Imagine being able to essentially 'grow', 'cook' or prepare foods without the negative industrial impact - everything from fertilizers to saute pans and even packaging," he says.
"The production chain requirements for food would nearly be eliminated."
Local food, could really mean local.
"You can imagine a 3D printer making homemade apple pie without the need for farming the apples, fertilizing, transporting, refrigerating, packaging, fabricating, cooking, serving and the need for all of the materials in these processes like cars, trucks, pans, coolers, etc," he adds.
While other researchers have toyed with the idea of printing food - notably at the Massachusetts Institute of Technology - the Fab@home team is actively working on creating an affordable syringe-based 3D printer that can print a wide variety of foods.
The current design is basically a series of precise syringes that deposits food inks line by line, and layer by layer, according to an electronic blueprint.
The blueprint specifies exactly what materials go where and are currently drawn up using traditional engineering computer aided design (CAD) software.
"In the future there would probably be a kind of 'ChefCAD' that will allow people to design their own food constructions," said Professor Hod Lipson, Director of CCSL.
"You'd hit the print button and it would ask you how many copies," said Prof Lipson.
The raw materials used to print the food are currently limited to anything that can be extruded from a syringe. Commonly they are liquid or melted versions of ingredients, including chocolate, cookie dough, cheese, or cake batter.
However, the team are now experimenting with mixing foods with hydrocolloids - substances that form gels with water, generally used to thicken food products - to create a range of basic liquid ingredients.
They also recognize that people will want to create their own inks, allowing everyone to become Willy Wonka.
This creates its own problems.
"Each material will behave differently," says Dr Lipton.
The solution would be to create a machine that constantly examines what it is printing, tweaking the design and mixture of raw ingredients as it goes.
"I feel like both approaches will be used going forward," he says. "In situations where you want complete control over the food intact and properties - hospitals, space flight, personal dieting - people will use the hydrocolloids approach.
When doing home cooking you want to be able to use your own hand-made ingredients and feedback will be the only solution."
The team has already had some success with their prototypes, creating cookies with embedded letters and designer domes made of turkey meat.
They hope to make their designs and ingredients list more complex, and able to handle food that people want to eat.
"Imagine if the microwave oven worked only with frozen pre cooked hot dogs when it first came out - no one would have them now," says Dr Lipton.
Long-term, the team believes that people will take to the technology by creating their own 3D printable food recipe social networks with everyone improving on each other's creations.
"3D printing will do for food what e-mail and instant messaging did for communication," says Mr Cantu.
"What if you could have mom's homemade apple pie sent via e-mail and printed up at home? Her apple pie becomes as close as an instant message on Facebook."
(Source: BBC)
Eating red meat — any amount and any type — appears to significantly increase the risk of premature death, according to a long-range study that examined the eating habits and health of more than 110,000 adults for more than 20 years.

For instance, adding just one 3-ounce serving of unprocessed red meat — picture a piece of steak no bigger than a deck of cards — to one's daily diet was associated with a 13% greater chance of dying during the course of the study.

Even worse, adding an extra daily serving of processed red meat, such as a hot dog or two slices of bacon, was linked to a 20% higher risk of death during the study.

"Any red meat you eat contributes to the risk," said An Pan, a postdoctoral fellow at the Harvard School of Public Health in Boston and lead author of the study, published online Monday in the Archives of Internal Medicine.

Crunching data from thousands of questionnaires that asked people how frequently they ate a variety of foods, the researchers also discovered that replacing red meat with other foods seemed to reduce mortality risk for study participants.

Eating a serving of nuts instead of beef or pork was associated with a 19% lower risk of dying during the study. The team said choosing poultry or whole grains as a substitute was linked with a 14% reduction in mortality risk; low-fat dairy or legumes, 10%; and fish, 7%.

Previous studies had associated red meat consumption with diabetes, heart disease and cancer, all of which can be fatal. Scientists aren't sure exactly what makes red meat so dangerous, but the suspects include the iron and saturated fat in beef, pork and lamb, the nitrates used to preserve them, and the chemicals created by high-temperature cooking.

The Harvard researchers hypothesized that eating red meat would also be linked to an overall risk of death from any cause, Pan said. And the results suggest they were right: Among the 37,698 men and 83,644 women who were tracked, as meat consumption increased, so did mortality risk.

In separate analyses of processed and unprocessed meats, the group found that both types appear to hasten death. Pan said that at the outset, he and his colleagues had thought it likely that only processed meat posed a health danger.

Carol Koprowski, a professor of preventive medicine at USC's Keck School of Medicine who wasn't involved in the research, cautioned that it can be hard to draw specific conclusions from a study like this because there can be a lot of error in the way diet information is recorded in food frequency questionnaires, which ask subjects to remember past meals in sometimes grueling detail.

But Pan said the bottom line was that there was no amount of red meat that's good for you.

"If you want to eat red meat, eat the unprocessed products, and reduce it to two or three servings a week," he said. "That would have a huge impact on public health."

A majority of people in the study reported that they ate an average of at least one serving of meat per day.

Pan said that he eats one or two servings of red meat per week, and that he doesn't eat bacon or other processed meats.

Cancer researcher Lawrence H. Kushi of the Kaiser Permanente Division of Research in Oakland said that groups putting together dietary guidelines were likely to pay attention to the findings in the study.

"There's a pretty strong supposition that eating red meat is important — that it should be part of a healthful diet," said Kushi, who was not involved in the study. "These data basically demonstrate that the less you eat, the better."

UC San Francisco researcher and vegetarian diet advocate Dr. Dean Ornish said he gleaned a hopeful message from the study.

"Something as simple as a meatless Monday can help," he said. "Even small changes can make a difference."

Additionally, Ornish said, "What's good for you is also good for the planet."

In an editorial that accompanied the study, Ornish wrote that a plant-based diet could help cut annual healthcare costs from chronic diseases in the U.S., which exceed $1 trillion. Shrinking the livestock industry could also reduce greenhouse gas emissions and halt the destruction of forests to create pastures, he wrote.
A new London-based startup company, ENTO, is attempting to get Westerners to eat insects as a regular part of their diet within the next ten years. 
ENTO believes that introducing insects into a Western diet would help our growing hunger crisis as well as benefit the environment since farming and harvesting insects takes very little water and transport fuel compared to livestock, grains and even vegetables. It is also more efficient than raising cattle.  One hundred pounds of feed produces 10 pounds of beef, whereas the same amount of feed would produce more than four times that amount in crickets. .If America and Europe got on board, insects could help to provide a sustainable food source for the future.  Not to mention that they are great source of protein and are very vitamin rich!
By using clever marking and aesthetically pleasing packaging, the founders of ENTO plan on breaking the cultural barriers based on the common Western idea that insects are "gross" or "dirty."  They have adapted a "playful and futuristic" look in an "Asian subtext" and grind up the bugs so they can be cleverly disguised in cubes and accompanied with compatible flavors.
To learn more about ENTO check out their website at http://cargocollective.com/ento
Personally, I think I would be more willing to try eating insects if they weren't ground up and hidden… that just seems deceiving and I would rather know what I was getting myself into, but that's just me.
I'm dying to know what other people think about ENTO? Do you think they can pull it off?  Would you be willing to try insects in your diet?
A 2008 study found that women who consumed about a cup of soy milk a day decreased their risk of developing breast cancer by almost 30 percent.
A study found that eating fruit at the beginning of a meal reduces overall calorie intake by 15 percent.